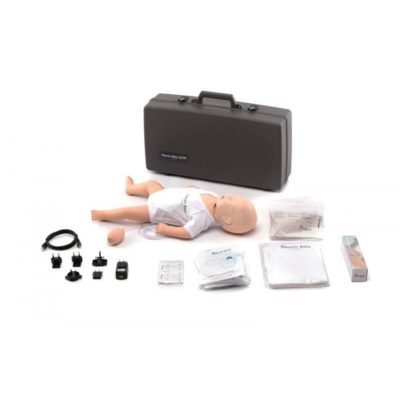 Laerdal Resusci Baby QCPR Wireless c/w Hard Case
Infant cardiac arrest does not happen often, but that's exactly why healthcare providers need to train for it. Resusci Baby QCPR enables first responders to gain the skills and confidence they need to act quickly during this high-stress experience.
With realistic chest stiffness, hand placement sensor, and the new SkillReporter app, Resusci Baby QCPR offers a new level of precision training for treating babies in cardiac arrest.
The SkillReporter app includes objective feedback and precise measurement of all vital CPR parameters, helping healthcare responders train to perfection.
Get immediate access to quality CPR feedback and debriefing with the free SkillReporter app – a perfect match for the Resusci QCPR manikins.
Actionable advice and guidance for high-quality CPR training
Use your own device
Download SkillReporter on IOS or Android tablets. Get notifications on new updates instantly.
Quick and solid connection
Connect Resusci Baby QCPR and the SkillReporter app with Bluetooth Low Energy connection.
Localize protocols
Set up SkillReporter to support your local guidelines and protocols.
Robust Debriefing
See granular details on every ventilation and compression. Give actionable and personalized advice, and export result for quality improvement initiatives.
Designed to meet your learning objectives
Sensored touch
Provide accurate feedback to your learners with advanced hand-placement sensors.
Realistic chest
Train on precise use of force for infant CPR. Resusci Baby QCPR has lifelike chest stiffness for realistic compressions.
Close-to-life anatomy
Perform head tilt, chin lift, and jaw thrust – exactly like it's done in real-life situations. Resusci Baby QCPR can also rotate the head sideways.
Ready when you are
Use Resusci Baby QCPR anywhere, anytime. It's completely tetherless and rechargeable, with more than 37 hours of battery life.
Expanded training possibilities
Help build proficiency in additional infant CPR skills with optional features.
Airway Head
The airway head configuration allows trainees to insert supraglottic devices and practice the workflow around ET intubation.
IO Leg
The lifelike IO Leg accessory allows trainees to master infant intraosseous infusion techniques.
CPR for Teams Mode
This mode supports non-standard protocols, like continuous compressions. It also enables instructors to provide feedback on CPR Skills and teamwork separately during the same session.
Train with AED and defibrillator
Use SimPad PLUS and ShockLink to connect a live defibrillator to the training environment. ShockLink safely absorbs the shock, while SimPad PLUS controls the rhythms and shows the shock delivered on the CPR timeline.
Event Registration and Customized Events
Mark important tasks as done with pre-loaded checklists, or create custom events tailored to your training curriculum. Actions such as "check breathing", "check pulse", and "arrival of defib" will be noted in the CPR timeline and stored in the CPR session data.